Hello readers!
So as you all know, I'm going to be going to university in this fall. Which university, I'm not sure yet because I've applied through regular decision. As soon as word gets in and all the details are finalised, I'll let you all know! Well, I'm really interested in classical studies, including Greek and Roman architecture, philosophy, literature, and culture. Now, all of this "studying" I plan on doing in the next few months, completely on my own, would require spending a lot of time with a single book. Granted, the library didn't have any of the books I wanted to read. Therefore, I made a massive leap in actually buying books. It was under $20 and I thought I deserved something nice, as I've been working every single weekend the past few months. The money went to my savings account, no questions asked. A gift to myself is well deserved!
It's snowing in Georgia and in this wintry weather, I'm at home (classes were cancelled at the university) drinking chai with these amazing books. Here they are:
Mythology-Edith Hamilton
This is one I've read already, but that I've wanted to read through for some light reading every once in a while. It's a bit heavy to open up my copy of the The Iliad or The Odyssey, and especially Plato's The Republic. Although I had my history books and my National Geographics to rely on, I craved the classical. This comprehensive collection of concise, yet deeply rich and fascinating, myths was an unforgettable. In my "Mythology" phase, and I'm pretty sure every reader's had one, this volume was one that I couldn't stop thinking about and now I'll actually own it!
Love, Sex and Tragedy: How the Ancient World Shapes Our Lives by Simon Goldhill
In my research of the "Classical" major, I found this book in the Cambridge University Classics page as a book that upcoming students would have to read in order to have a solid enough background in order to hold good conversation and understand the material throughout the course. My goal had once been to go to Oxford University (for some reason, Cambridge seemed like a Harvard type, stern and stiff, while Oxford seemed like the Brown University type, vibrant yet also intelligent). Unfortunately, with my financial circumstances where they are, and the difficult procedure international students must go through, I couldn't quite fit Oxford into my life. I hope that I can apply there for grad school, and just get my undergrad done here in the States. OFF TOPIC. And ON the topic of how the ancient world shapes our lives. Although I'm quite aware of the profound impact the ancient Roman and Greek societies had upon the shaping of our western world, I'm only able to grasp at vague ideas like "democracy." I'm especially looking forward to this one!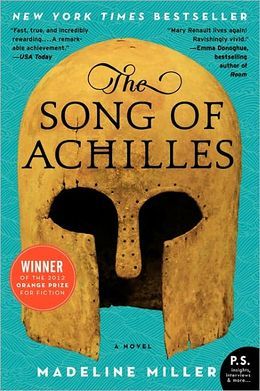 The Song of Achilles- Madeline Miller
I read a review of this on one of my most favourite book blogs, Tiny Library, a long time ago and resolved myself to read it. As I looked up books to read pertaining to the myths, including many Greek poems and plays, I thought I'd use it as an excuse to get this lovely fiction novel! It's the first book I'm going to read!
Thoughts? Suggestions? What are you all up to?