book info:
on sale: now
copy from: independent bookseller
pages: 378
review written: 25.2.2015
originally published: September 2011
edition read: Ecco
title: The Song of Achilles
author: Madeline Miller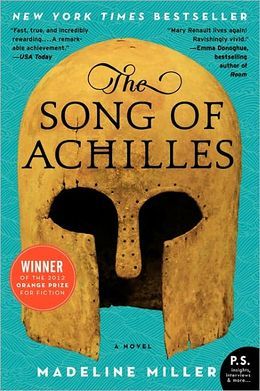 Achilles, "the best of all the Greeks," son of the cruel sea goddess Thetis and the legendary king Peleus, is strong, swift, and beautiful— irresistible to all who meet him. Patroclus is an awkward young prince, exiled from his homeland after an act of shocking violence. Brought together by chance, they forge an inseparable bond, despite risking the gods' wrath.
They are trained by the centaur Chiron in the arts of war and medicine, but when word comes that Helen of Sparta has been kidnapped, all the heroes of Greece are called upon to lay siege to Troy in her name. Seduced by the promise of a glorious destiny, Achilles joins their cause, and torn between love and fear for his friend, Patroclus follows. Little do they know that the cruel Fates will test them both as never before and demand a terrible sacrifice. (summary and image from goodreads)
Note: I'll try to give away as little as possible, but remember that this story is ancient so I'm not as careful about spoilers :)
It's been years since I've sat down in one sitting and finished an entire book. I've read The Aeneid and the Iliad and the Odyssey, but one story always fascinated me more than the others: Achilles and Patroclus. I've just finished this book, two minutes ago, and I am so filled with love for the story Ms Miller has written. Whereas The Iliad by Homer detailed the events and the names, Miller gives the story of war a more human taste.
She makes the wise decision of choosing to tell the story through Patroclus, a mortal, rather than through Achilles the demigod. I found Patroclus' narrative fresh and true to Homer's narrative of
The Iliad
. The writing is descriptive when it needs to be, but simple everywhere else. Simple in the best meaning of that word. The book is not laden with heavy words, rather with precise and sharp ones. Writing is best when one uses few words to achieve the best meaning as opposed to using lavish ones to reach that same meaning. Each word was chosen skilfully. This style made it easy for me to continue reading, and to keep a reader interested is a talent I admire as a reader myself. I've been in a terrible reading slump, but this book has revived me. With heavier literature, I'll pause to soak in the words, leave the book alone for a few days, and go back to it in the same routine. The amazing quality of this work allowed me to read it all in one go.
What I loved most was the romance between Achilles and Patroclus. When I read The Epic of Gilgamesh, I noted the homoerotic sub-context between Gilgamesh and Enkidu, while my teacher insisted it was just comradery. This denial of the possibility of homosexuality in ancient times in the literature world is only a little surprising. When the Western World rediscovered Ancient Greece and Rome, with excavataions and translated texts, they ignored and even tried to hide the evident suggestions of homosexuality in literature. However, the original words of Homer suggested such a relationship and the question will remain whether Achilles and Patroclus were lovers. In The Song of Achilles, the romance was not like any other I've ever read. Their relationship is strong, so much so that spoken words were not as needed as they are today. I remembered watching
Troy
, starring Brad Pitt. The relationship was between two cousins, close friends and nothing more. I remembered watching
Alexander
, where the relationship between Alexander and Hephastion was a lovers one. They both grieved the loss of their partner: Achilles to Patroclus, and Alexander to Hephastion. Both grieved in incredibly similar ways. In
The Iliad,
Achilles laments Patroclus' death like Andromache grieves for Hector. I strongly believe that Achilles and Patroclus were lovers. Therefore, I was incredibly thrilled to see it written out in
The Song of Achilles
. I'm absolutely in love with this very real and honest relationship that Miller has created. If you're a sucker for love stories, this is one to go with. A friend of mine, who's a homosexual, commented on the lack of LGBT representation in literature where the characters are NOT their sexuality. For instance, the "gay best friend" character, or the main character who's story is all about "coming out". I thought back to
The Epic of Gilgamesh,
The Iliad, A Separate Peace
(by John Knowles) as the only examples I could think in which sexuality was not the central idea. I'm happy to add
The Song of Achilles
to that list. Gay people are not their sexuality, although by me labelling them as "gay" it seems like I'm ironically disproving my point. I digress.
I'm incredibly happy to have purchased this book so that I can keep it on my shelf along with my favourites. I'd recommend it to anyone! I can't find my image file for 6 umbrellas, so I'll stick these five umbrellas to attest to my love of this book.