Once again, since I have a three day weekend (today being the last) I have had more time to watch films! One was really good, and one ok-ish, and the other: not so much. The one I didn't like very much was Little Buddha starring Keanu Reeves who plays Siddartha. It was just...not very good. The one I love is a Korean film called Punch.
#5:
Punch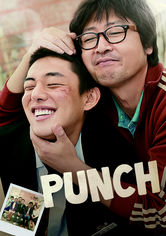 title
: Punch
director
: Han Lee
release date
: December 2011
studio:
CJ Entertainment
17-year old Wan-Deuk comes from a poor family and his grades in school are equally poor. He is rebellious and troubled student, but unrivalled when it comes to fistfights. Wan-Deuk's life takes a turn when he gets to know his annoying and weird teacher Dong-Joo. Dong-Joo gradually changes from an enemy to a friend as the two get to know each other. Learning to express his anger at the world by taking on kickboxing, the unlikely hero experiences emotional growth and what it means to have a dream. (summary from
Rotten Tomatoes
)
My thoughts:
At first, I was shocked at the cold brutality of the film was. Wan-Deuk's father gets beat up at a market, cruelly too, which is worse because the father is crippled with a hunchback. A bit freaked out, I still felt tempted to continue and was rewarded grandly. Wan-Deuk was honest and sincere, but a massive failure in studies. The relationship between him and his Dong-Joo is absolutely charming to watch and I loved them both very much.
Wan-Deuk is different from other Koreans in that he has a Filipino mother. She later becomes quite important, as she had left when Wan-Deuk was a child. Eager to meet her son again, the two rekindle in a beautifully emotional, honest way. Watching their hesitant relationship blossom really made my heart melt, and became one of the main reasons why I loved this film.
This is one of those coming-of-age teenage hero films that's just simple, yet emotional, and very enjoyable.
And now onto #6 (another Asian film)
title:
I'm A Cyborg, but that's OK
director:
Chan-wook Park
release date
: 2006
studio
: 57
"The film takes place mostly in a mental institution filled with an eclectic menagerie of patients. Young-goon, a young woman working in a factory constructing radios and who believes herself to be a cyborg, is institutionalised after cutting her wrist and connecting it with a power cord to a wall outlet in an attempt to "recharge" herself, an act that is interpreted as a suicide attempt. Her delusion is characterised by refusing to eat (she instead licks batteries and attempts to administer electric shocks to herself), conversing almost solely with machines and electrical appliances and obsessively listening to her transistor radio at night for instruction on how to become a better cyborg. Her apathetic mother is interviewed by the institute's head doctor, to determine the roots of Young-goon's psychosis; despite claiming ignorances of her daughter's delusion (it is later learnt she knew but was too busy to make her seek help), she reveals that Young-goon's mentally-ill grandmother had previously been institutionalised for delusions of being a mouse, a trauma that sparks Young-goon's own lapses from reality. As a result, she fantasizes frequently of finding her grandmother and seeking revenge on the "men in white" who took her away."
-
Wikipedia
My thoughts:
First of all, this is not the obvious romantic comedy one might think of it as. It's quirky, odd and just plain weird at times. But I love how the relationships develop, and each character's unique issues and solutions. It's a simple film, a bit confusing at times, but all in all something that's kid friendly (except for the beginning, I cringed and skipped ahead).
Once again, these are all on Netflix if you'd like to watch them on Instant Play! Or through some other outlet :) A little update: I have barely been reading due to the immense amount of homework I have each day. My next review will definitely be a book one, however. I promise! Hasta luego!