In the past few weeks, I've heavily considered doing this post about following, and what it means to follow.
In a perfect world, readers would follow a book blog purely for the enjoyable, intellectual and enhancing posts, the well written reviews and up-to-dates on book news. However, that's just not it.
The Bad
It'd be best if I get this part over with :) The...undesirable part about following is when people do it for the wrong reasons, though it may seem the only way at first. For instance,
giveaways
. I require people to follow me to enter giveaways for the wrong reason: I want followers. And that's something I am hoping to change in the future. I feel like I'm bribing readers to follow me with free things, but I want to achieve that steady base of about seven hundred. After that point, I think, I'll just let anyone enter and win.
But people who follow just to enter a giveaway, in the end, backfires. I've done it many times because of all the fantastic items I wanted to win, all those brilliant books and so on. But now, when I look through my feed, I see reviews on genres I don't read/appreciate, adult themes sometimes, and generally expressed ideas that I wouldn't want to see. That's why I've been un-following inactive blogs, and blogs that I wouldn't like to read more of.
Sometimes, I see incredibly popular blogs with over a thousand followers (or close to, at least) with not a single comment on posts, and no
involvement
other than extreme participation in giveaways and contests.
People to follow due to blog hops, like Follow Friday. I've recently done two of them, and that's where a massive load of new followers arrived (thank you!). But I followed blogs on that hop that looked like a blog I'd like. I followed because it looked interesting, and I've seen and read many great blogs that way. However! Part of the Follow Friday blog hop (hosted by Parajunkee and Alison Reads) is that when someone follows you and comments, you've got to return the favour and follow back. I don't want people following me because I've followed them. I want them following me because they like me and my blog! It seems like such a whimsical concept to have, but it is.
Though I'd really not like it to come down to this, but if you don't like my blog, you have my permission to unfollow me. I know my giveaways have kind of forced you to join, or because you feel required because of the Follow Friday. OR because you just generally don't enjoy what my blog has, content-wise.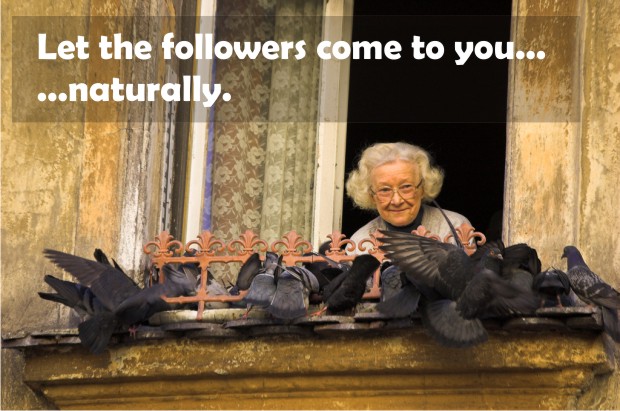 That's a strange picture, and I don't think I'm an old lady and I don't think you all are black pigeons :)
The Good
The good part is actually the function of following: to read updates and interesting posts bloggers write. As I mentioned before, I've deleted a lot of blogs that are non active and that I don't enjoy (thank you to The Lost Entwife for that advice) and now I can actually, and actively,
follow blogs.
Wholeheartedly get myself involved and into discussions and posts and truly soak in what blogs and their writers have to offer.