title: Second-Hand Sharm
author: Julie Berry
stars: 3
summary: goodreads
review: kirthi
pages: 352
In a secluded village, magic sparkles on the e
dges of the forest. There, a young girl named Evie possesses unusually strong powers as a healer. A gypsy's charms—no more than trinkets when worn by others—are remarkably potent when Evie ties them around her neck. Her talents, and charms, have not escaped the notice of the shy stonemason's apprentice. But Evie wants more than a quiet village and the boy next-door. When the young king's carriage arrives one da
y, and his footman has fallen ill, Evie might just get her chance after all . . .


My thoughts: (I'm temporarily breaking out of my review template)
Why is Second-Hand Charm not one of my favourite books? One, it was way too fast, each scene moved so quickly! Second, the focus wasn't really on the snake, it was on almost everything else. Third, the fiction was way too much. Maybe because I've grown out of pure, girly fantasy fiction. It'd be a wonderful read for younger ages.

The events had little to do with each other. And t
he ending was confusing and fast. I was hoping for a better ending (from the beginning)

Overall: Great for young audiences (12 and under) but not recommended for teens!

Conclusion: Thick with fantasy, Secondhand Charm is sure to be loved by young children everywhere ^_^
Interview with the amazing Julie Berry!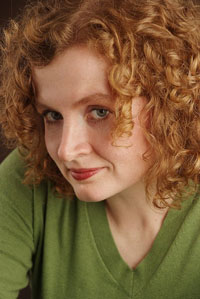 1. Tell us a bit about yourself!
By day I'm a wife, a mom of four young boys and a director of sales and marketing for a software company. Also a friend, neighbor, Sunday School teacher and choir director. And a delinquent member of my local gym. I think they've forgotten what I look like. By night, and by early morning, and by weekends, I write. Things I can do a little: play piano. Sing. Bake pie. Grow herbs and flowers. Sew quilts. Tidy the house, if the spirit moves me. Knit. But let me emphasize here, with all these things, I can do them a little. Only a little.
2. Where is your favourite place to think?
I do a lot of thinking while I'm moving, either by taking a walk around my neighborhood, or driving to work in the car. If I'm sitting down to write, I write wherever I am, with my laptop. But if I really need to think, ie, to work out a problem or question I have with my manuscript, I use a single subject notebook and pencil or pen to thrash it out.
3. What type of book smell are you fond of, if you are at all. Musty and dusty, new..?
I admit I'm partial to shiny new books with their fresh ink smell. But a book I've loved many times over is always good to hold, even if it has gotten a bit musty.
4. Why fantasy fiction?
Is there any other choice? J I have written realistic manuscripts, but I find it so much more liberating and exciting to dwell in worlds where the impossible can happen.
5. Do you listen to music when you write? If so, what songs?
No, I don't listen to music when I write. That's probably because I love music so much that it would completely distract me. I suppose some soft classical, especially baroque, might not bother me, but really I prefer silence.
6. Do you have any advice for aspiring authors?
Read lots, write lots, and enjoy the process of writing and dreaming and creating. If you don't enjoy writing a LOT, the path to publication with all its setbacks may be more than you want to face.
Thanks for the interview!
Thank you!