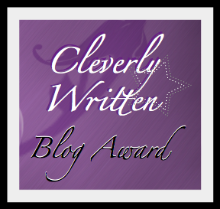 No, I haven't received these blog awards, I've just plucked them off of websites and blogs and splattered it on this post! AND now! For the Cleverly Written award to:
1. Maya Ganesan from
allegro
2. Erin from
Miss Erin
3. Danielle from
Sesquipedalian
4. Sweetest in the Gale
5. Rose from Sincerely From, Rose Cunningham

The Gorgeous Blogger Award goes to:


1. Jaime and Tamiasmom from
Revenge of the Book Nerds
2. Kate from
The Neverending Shelf
3. Tena from
Crazy Book Slut
4. Chioma from
Black and Blue Ink
5. Casey from
A Passion for Books
ALSO, thanks Milli for the "Not Strange but Unique" award!
I usually only give away awards to book blogs and writing blogs, I guess it's just because I don't really explore blogs outside those categories. I really hope to diversify my reading over time :D Thanks to everyone for their blogs, and their comments, and just for existing. Happy Holidays! Happy Hanukkah, Kwanzaa, and Christmas!