Saving Francesca is one of my favorite books this summer. It's simple, easy to understand for younger people, and has a great plot.
Francesca Spinellia, an Italian student, attends St. Sebastian's which had just recently began to accept girls at it's all-boys school. By 'girl's school' they mean adding a not-so-furnished girls bathroom and a mere 30 girls, against 750 boys.
Family problems occur, added to Frankie's problems with a friend-less school. When Mia, Frankie's mom, gets sick. The family falls apart. It's a great, unforgettable, and MAYBE re-readable book.
One of my favorite parts in the book was the closeness of Frankie and her little brother Luca. They're almost like one person and get along well. It's kind of personal to me, but I don't have a nice caring "Luca"-like brother.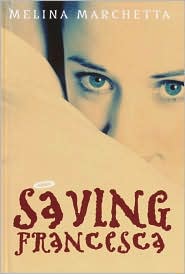 (The cover's are amazing, and I love both of them. The first one is more colorful, more "I want to read this" because it shows a more happy, beautiful Francesca. The second one is washout-y and is more..ordinary and simple. But the girl on the second cover has really really beautiful blue eyes.